americas most stylish blogger // challenge 1 // boyfriend vest // model: helen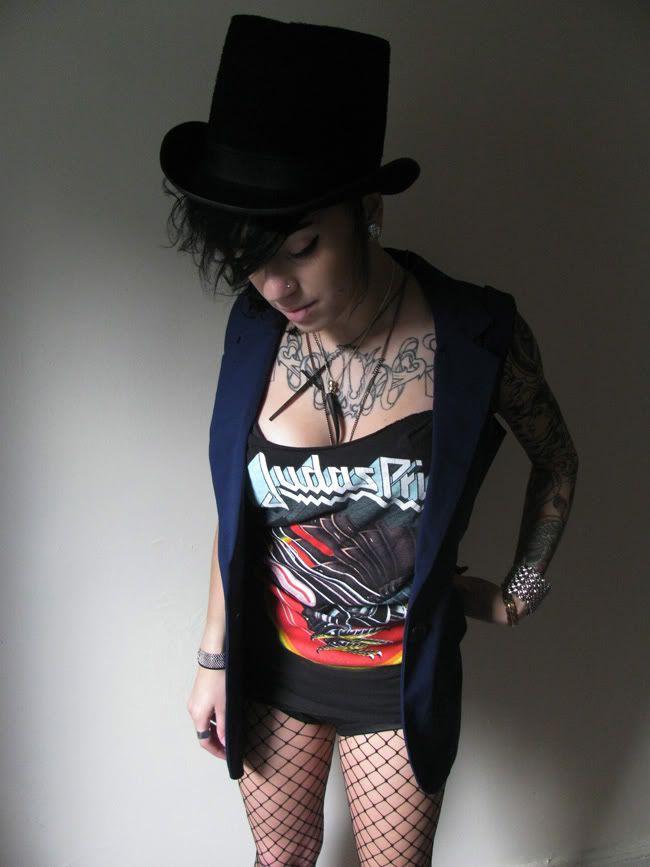 really stoked to finally be able to post these photos and talk about this incredible contest im involved in.
but in all honesty im not that good with words and this video is really cute!
with that being said - ive been incredibly anxious and excited to get this challenge started!
i really wanted to do something out of my element
 - well obviously,  its cobalt blue,  i dont know how much more out of my element you can really get - 
but also my edge tone. i threw my friend helen together with some rough boots, wider style fishnet tights,
judas priest tshirt , jewelry from dark matter la and a collection of 2349823 other places , 
little blacks shorts , boyfriend vest and top hat. 
down to the nitty gritty - 7 other ladies and myself are competing to be americas most stylish blogger - 
the widget to your right allows you to vote!  
every tuesday for 5 weeks we will be receiving a wardrobe piece from
www.bluefly.com
to style however we chose - pretty sick right? 
visit bluefly.com, stylelist.com to vote ! 
or you can look below  xx
so stay tuned here for next tuesdys because im telling you its so good - i mean really really good. xx