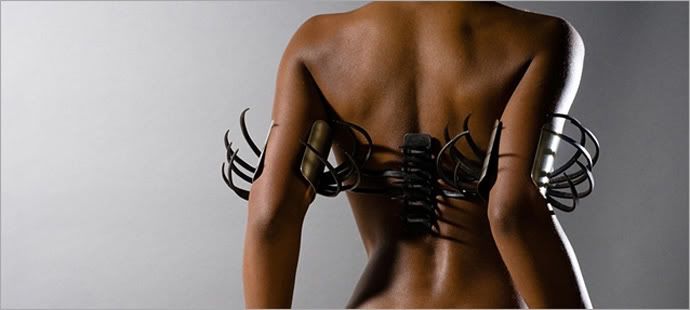 Unfortunately, or fortunately depending on how you look at it ,
i havent been too sprung up on any of the haute couture shows.
so i'm pulling elsewhere.
but when i came across this piece by rebekah frank, i couldn't help but imagine how incredible this would be paired up
with numerous pieces i have seen in the past two days, especially with a few selected from jean paul gaultier ss 10.
army of models in perfect posture.
a exquisite runway staple.
piece in detail via rebekahfrank.com :
Stand straight. Shoulders back. Chest out.
It seems like common sense: good posture exudes confidence and capability.
For a woman, however, it is a thin line.
To push your chest out too far brings unwanted attention,
but to show yourself meek and timid brings its own set of complications.
This piece acts as a posture enhancing device, while at the same time limiting movement.
By restraining the body in a position of confidence and capability, the confusion of gender normative behavior is visually explored.
// rebekah frank / metalsmith //