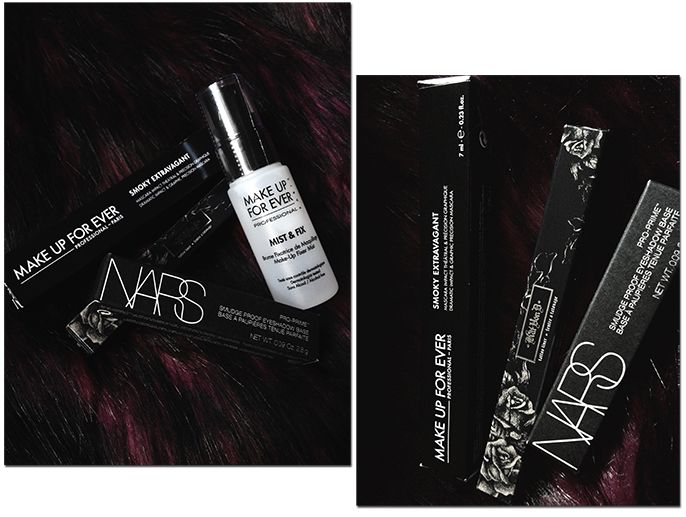 occasionally people ask me what makeup i wear and to be honest besides foundation
i try to keep it real simple with the lash, liner, lips = BOOM routine.
however last week i bought the items above and i cant praise them enough so i thought
i would share some of my not so secret, I'm probably real fucking late on how awesome these are , products
nars smudge proof pro primer
H O L Y S H I T a fucking god send .
since moving from the city to the country, i have developed this really rad thing called allergies.
sike, it fucking sucks.
my eyes are constantly watering , making it damn near impossible to do a cat eye.
(sometimes i can make it an entire hour with my eye makeup in place - IF I'm lucky)
primer on the lid, corners and underneath the eye - makeup glue.
my eyes have stayed perfect everyday, ever since.
100% completely sold on this being the greatest primer in all makeup land.
•purchase here•
make up for ever mist & fix
this was one of those impulse purchases in the little plastic clear boxes before the register at sephora.
i thought what the hell , my makeup mostly looks like shit by the end of a 4-5 hour bar night, maybe its the booze, maybe its me, who knows - lets try it. wow - what a fucking difference. spray once , rock n roll , came home this morning and my face looked just as good as when i left the night before.
•purchase here•
make up for ever smokey extravagant *new*
i've wanted real 70s playboy lashes forever.
GAME OVER. THIS IS EVERYTHING.
• purchase here •
kat von d tattoo liner
i was told it was " the darkest pen eyeliner ever " - its pretty fucking solid , and the fine point tip makes it create the smoothest liner finish. i dig.
•purchase here•